How I chose Bridgestone Golf
Written by Emilia Migliaccio
---
Be curious, brave, and genuine. That has been my motto for pushing myself past my comfort zone and building relationships. My name is Emilia Migliaccio, I'm 22 years old, and due to this motto, my life has evolved in many ways. As a senior in college January of 2021, I decided not to turn professional because I was curious about other opportunities I could explore. I applied to graduate school, acquired a freelance position at The Golf Channel which I was brave enough to ask for, and after a year away from college golf, I acknowledged my genuine love for team competition and decided to use my extra year of eligibility due to Covid to play one final year of college golf as I finish up graduate school at Wake Forest University.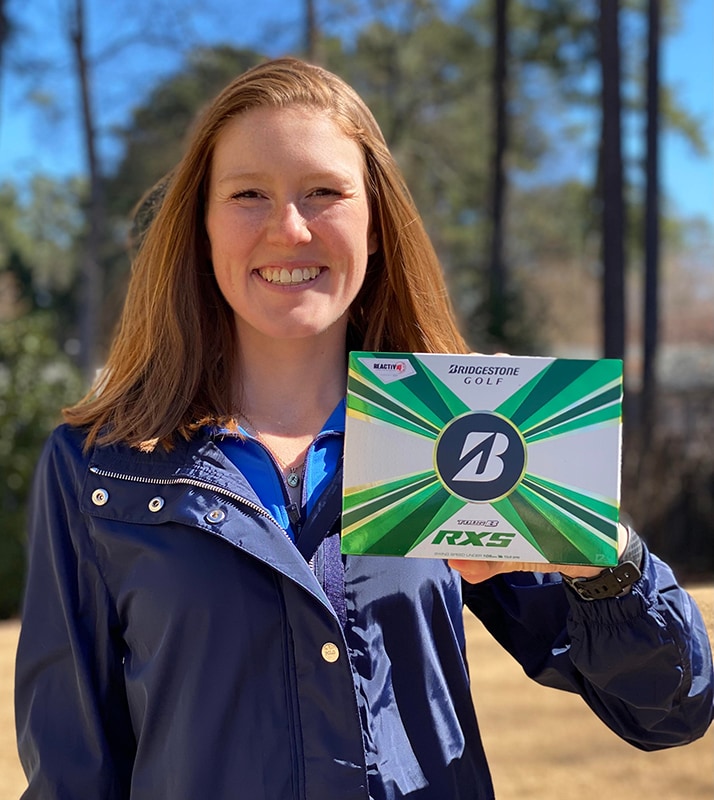 This motto was also how I became involved with the Bridgestone family. Last fall, my boyfriend Charlie Doran, former teammate Vanessa Knecht, and her brother Patrik traveled down to Clemson for the Wake Forest vs. Clemson football game.
We were riding high with hope after what was an incredible season for Wake and almost winning the ACC Championship. It was my first away football game and my first time witnessing a live game in the famous "Death Valley" Stadium, which holds over 81,000 fans. We took our seats on the upper level. Our black and gold apparel weremunicipal compared with the blankets of orange and purple that flooded the stadium.
As we sat in our seats with excitement, anticipation, and nervousness, a small group of folks who were wearing black and gold walked passed us and sat directly behind us. We didn't notice them until Wake finally made a good play (we didn't play so well that game) and both of our groups were the only ones standing up and cheering, surrounded by thousands of glum Clemson fans.
That was how I met Dan Murphy, the President and CEO of Bridgestone Golf. I'm always curious to connect with other Wake Forest fans, and this particular time, a sense of belonging felt relevant as we were quite outnumbered by Clemson fans. Dan told me that he was a Wake alum and humbly mentioned that he "worked" for Bridgestone. I briefly explained that I had played golf for Wake Forest as an undergrad and was currently earning my masters degree in communication. For the next three hours, Dan's group and my group were the eight screaming fans when Wake scored a touchdown or made a great play, and the eight people quietly sitting around the thunderous noise when Clemson scored.
Following the Clemson game, I remained curious about Bridgestone Golf. I had never taken the time to explore the right golf ball for my game. I know as an elite athlete trying to reach the pinnacle of success that the small things matter, so I decided to be brave and reach out to Dan to further connect. As a 22-year-old starting out my career, if I have the opportunity to develop a relationship with someone at the peak of their career in the business world, I'm going to take it. Our connection over the phone was instant, and our values matched each others. The next step was to actually test the Bridgestone product.
I'm not a sensitive golfer which has its positives and negatives. It doesn't take long for me to get used to new equipment, which means I'm never stuck with an old head or shaft from ten years ago; however, when I am trying to change equipment, it's difficult for me to tell a difference between shafts, heads, and golf balls. This was why I was unsure if I would be able to notice a difference between the different TOUR B golf balls. I knew this was important to take seriously, so I researched the benefits of each golf ball and spent two weeks on the golf course testing them out.
I was shocked at the difference between the golf balls. First, I compared the TOUR B XS and the TOUR B X. I had a feeling I wouldn't use either of these golf balls because my club head speed was not over 105 miles per hour, which is who the golf ball is suited for. Immediately, I noticed a difference between the X and the XS when I would chip and putt. The X came off hotter, and the XS was softer, so I ruled out the X as the golf ball for me. Next, I compared the RX and the RXS with the XS golf ball. Off the tee and when I putted, the ball flight and sound of the RX and RXS worked better for me, so I ruled out the XS ball. The remaining two golf balls were more difficult to decipher between. Both the RX and RXS were made for players with less than 105 club head speed. My club head speed sits just under 100 miles per hour, so off the tee both balls felt great. Additionally, I couldn't tell a difference in sound or feel off the putter face. However, it was the spin created from my mid to long irons where I could tell a significant difference. With my 7 iron and down, my ball rolled out significantly less with the RXS ball than when I used the RX. This was an important characteristic for me to observe because I'm a player that likes to have little roll out in my irons and rely mostly on carry yardage. That was when I made the final decision to officially switch to the TOUR B RXS golf ball, and I couldn't be more thrilled.
I'm proud to say that my curiosity, bravery, and genuine interest in building relationships led me to initiate a conversation with Dan Murphy and eventually with Bridgestone Golf. Most importantly, through this partnership, I'm excited to continue developing as a golfer, a business woman, and as a mentee, and I'm enthusiastic for what the future has in store.